EASTERN SHORE UNDERCOVER EDITORIAL: WHY WAS THE MEMORIAL OF MARYLAND STATE TROOPER EDDIE PLANK REMOVED???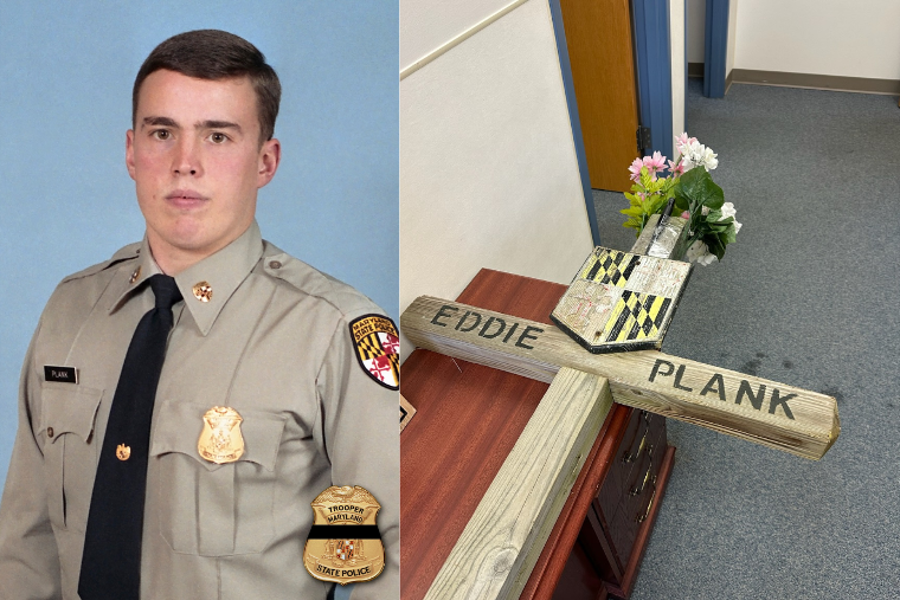 October 31, 2023
It came to my attention on Friday that the memorial to honor Maryland State Trooper Eddie Plank, which was on the southbound side of Rt 13, near the MSP Barrack on Perry Road, has been removed. For those of you who are unaware, Trooper Plank is a Maryland State Trooper who was murdered while on a traffic stop in Princess Anne, MD on October 17, 1995.
I've done some digging over the weekend and reached out to some people I know, and have found that this decision was made based on an SHA Policy that is in place, which doesn't allow for these types of memorials along the highways. I looked it up and found that the policy reads:
"2.2 SHA will allow a roadside memorial to remain in place for a period of nine (9) months from the time of any accident involving a fatality, provided that the memorial is not deemed to be a safety hazard to vehicles and their occupants, bicyclists, pedestrians, and/or by the District Engineer or their assignees or by local law enforcement."
This particular memorial has been in place for several years, as long as I can remember, and it was easily viewable while you were driving down Rt 13. The placement of this memorial was just on the opposite side of the barrier, in a grass plot parallel to the roadway (Rt 13). It wasn't in anyone's way and couldn't be considered an interference with traffic because there was nothing on the other side of where it was placed.
Here is my concern and issue with this being done. Many times those who gave their life in the line of duty are forgotten over time and it sort of becomes a temporary display of concern. When tragedy strikes, and we unfortunately lose one of our dedicated and devoted officers in the line of duty, everyone wants to show they care early but after time, things settle and that officer is sort of forgotten about, or at least not thought of as much, as when they first tragically passed away.
For many in the community, this is the case but for the officer's friends and family, the pain doesn't go away. The pain of losing a loved one, a family member, a devoted co-worker who was dedicated to serving the citizens within the State of Maryland, while it may lessen over time, doesn't ever go away and should never be forgotten. The sacrifice this family made, by losing their loved one in the line of duty, should never be forgotten.
This man in particular, Trooper Eddie Plank, was protecting our state and was brutally murdered while ensuring the safety of the citizens of Somerset County, and the decision was made to take his memorial down, because of a policy, which hasn't been enforced for 12 years! A small memorial that was inside the guardrail, a cross with Trooper Plank's name on it and the Maryland State Police badge etched within it and in no way, could be considered a traffic hazard.
Eddie Plank gave his life for the State of Maryland in the line of duty and removing the memorial laid in his honor, is disrespectful to his family, friends, and former co-workers, and diminishes his contribution to society.
Many people have asked who they can contact about this decision. Mr. Mark Crampton is the individual who is in charge of SHA and the person who would need to make the decision to place the memorial in its rightful place. I encourage everyone who wishes to express their opinion on this, to contact Mr. Crampton and let him know that the memorial should be put back!
Mark W. Crampton

District Engineer

Maryland Department of Transportation

660 West Road, Salisbury MD 21801

Phone: 410-677-4006

Email: mcrampton1@mdot.maryland.gov
© Eastern Shore Undercover LLC TM/SM. All Rights Reserved.