TWO PEOPLE CHARGED IN LAUREL FOR WEDNESDAY MOTOR VEHICLE CRASH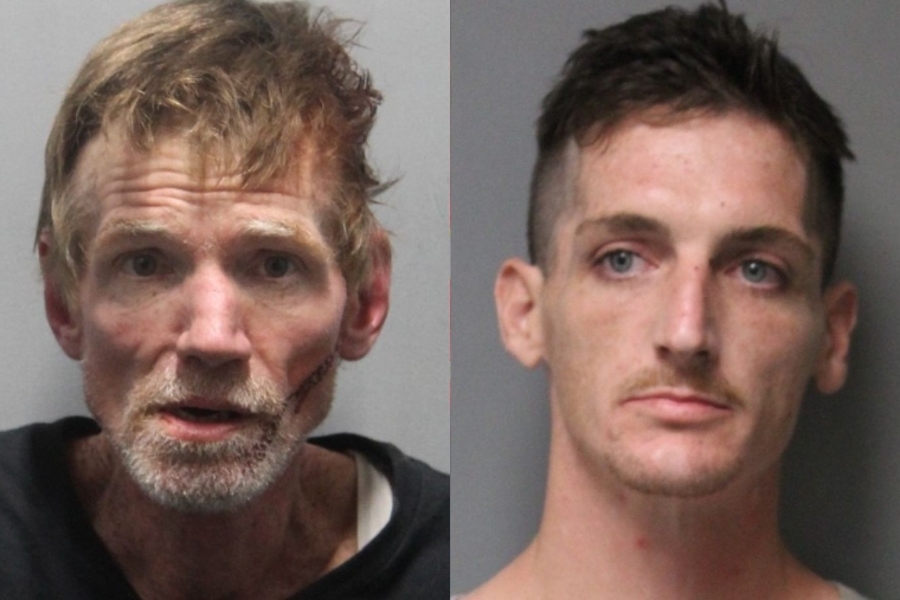 November 16, 2023
Laurel, DE - On November 15, 23 at approximately 5:58 am, Laurel Police units were dispatched to the intersection of Sussex Highway and Georgetown Road in reference to a motor vehicle crash with injuries. Officers arrived to find two vehicles disabled in the roadway, resulting in Southbound Sussex Highway and Eastbound Georgetown Road being shut down for an extended period of time, so law enforcement could complete their investigation. The shutdown of the roadway lasted approximately one hour. 
The investigation determined that one of the vehicles was stopped at the red traffic signal for Southbound Sussex Highway traffic when it was rear-ended at high speed by another vehicle. 
Both drivers remained in their vehicles while the striking vehicle's passenger ran to Royal Farms adjacent to the intersection. Upon contacting the passenger, he was identified as Ryan Hearn (31) of Laurel, DE. He was found to be in possession of a large fixed-blade dagger and drug paraphernalia. Due to his injuries, he was transported to a local hospital by EMS. 
Additional officers contacted the drivers, who were both being evaluated by EMS. The driver of the stopped vehicle was transported to a local hospital by EMS for his injuries, while the driver of the striking vehicle, identified as Kevin Shilling (53) of Laurel, DE, refused EMS. 
While speaking with Shilling, officers located drug paraphernalia and observed signs of impairment, which initiated a DUI Investigation. 
The investigation determined that Shilling was driving under the influence of drug(s) and was unable to operate a vehicle safely. Additionally, his Delaware driver's license was suspended.
As a result of this incident, Kevin Shilling was arrested and charged with the following crimes:


Vehicular Assault Second Degree x2 (Class A Misdemeanor)


Possession of Drug Paraphernalia (Class B Misdemeanor)


Driving Under the Influence of a Drug (Misdemeanor)


Driving While Suspended/Revoked (Misdemeanor)


Failure to Have Insurance Identification in Possession (Misdemeanor)


Expired Tags (Violation)


Inattentive Driving (Violation)


Ryan Hearn was not arrested on scene due to requiring medical attention as a result of the collision. Hearn was found to be a person prohibited from possessing deadly weapons as the result of an 11/6/23 violent felony conviction. A warrant was issued for Hearn, and he was arrested by the Department of Probation and Parole on 11/16/23 before being turned over to the Laurel Police Department for the following crimes:


Possession of Deadly Weapon by Person Prohibited (Class F Felony)


Carrying a Concealed Deadly Weapon (Class G Felony)


Possession of Drug Paraphernalia (Class B Misdemeanor)


Both subjects were presented to the Justice of the Peace Court for arraignment. Shilling was originally committed to Sussex Correctional Institution on an intoxication hold, then released on $2,402 unsecured bail. Hearn was committed to Sussex Correctional Institution in lieu of $5,200 secured bail. 
Anyone with information about this incident or other criminal activity is asked to contact the Laurel Police Department at 302-875-2244 or by direct message to this page. Information can also be submitted anonymously to Delaware Crime Stoppers by calling 800-847-3333 or texting "KEYWORD" followed by your information to CRIMES (274637). Tips submitted to Crime Stoppers that lead to an arrest are potentially eligible for a cash reward.
© Eastern Shore Undercover LLC TM/SM. All Rights Reserved.